Thank you to everyone who entered photos in the AP Month photo event and to those who voted.  The top AP Month photographs voted best illustrations of our AP Month theme "Full of Love:  Parenting to meet the emotional and physical needs of children" are:

Smiling in Sleep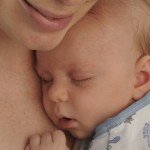 Mother and baby

Holding Hands
These photos will be included in 2011 API publications and the families will receive a special thank you from API.  Entrants can expect to receive follow up communications from the AP Month team and questions can be directed to development@attachmentparenting.org.
Congratulations to the following individuals randomly selected to receive the following AP Month Giveaway Day gifts:
Jilian – Moby Wrap
Debra – "The Healthiest Kid in the Neighborhood" by Dr. William Sears
Sarah – WYSH onsie
Danielle – thriveMOM telesummit
Lucy – Discipline book and teleseminar package
Megan – Sleep book and teleseminar package
Monica – Mothering subscription package
"Full of Love: Parenting to meet the emotional and physical needs of children."
We hope that during October and through the related AP Month events, you were able to nurture new relationships, gain new friendships, increase your connectedness and expanded your support networks.
AP Month would not have been possible without the generous support and talents of our partners, sponsors, API leadership and AP Month team of Jeannette Freeman, Ashlee Gray, Angela Adams and Claudia Jendron. We are grateful for these sustaining relationships and hope to continue deepening and expanding over time.
We also thank you — for subscribing, reading, joining, donating, bidding, participating, volunteering and supporting.  With your help, our auction enabled us to raise critical funds to sustain our mission and we look forward to building this feature in the coming years.
Thank you to our partners Dr. Sears, L.E.A.N., Infant Massage USA, AP Canada, Mothering Magazine, International Childbirth Education Association and This Emotional Life.
Thank you to our sponsors WYSH, Moby Wrap, Stonyfield Organics, Lamaze, Humanity Organics, Sleepy Wrap, Boutique Organic, The Natural Child Project and BabyBabyOhBaby.
We hope you'll plan to join us again for AP Month next October and bring your friends!  In the meantime, we all know from experience that supported parents have more to give. so stay "Full of Love," by subscribing to our free e-news, API Links and keep up with the many ways you can nourish your family and you too!